Recipes for the week
Orange Honey Glazed Chicken
This weeks recipe
Here is what you need: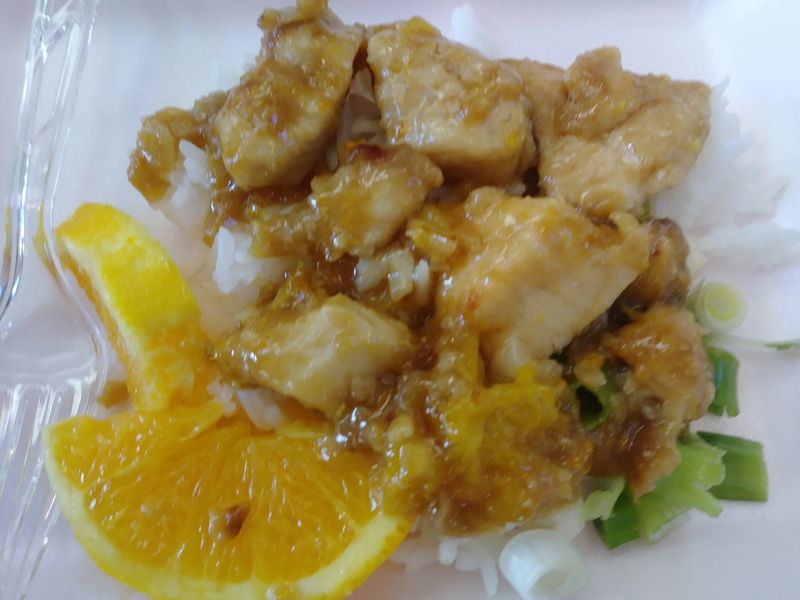 For the Chicken
Canola Oil
2 tsp sesame oil
1 egg
⅓  cup cornstarch
2 tbsp soy sauce
2 lbs. boneless skinless chicken breast or thighs, cut into bite sized pieces if using chicken breast
For the Sauce:
1 fresh orange zest
2 cup of orange juice
1 tbsp coriander
2 tbsp soy sauce
3 tbsp water
½ cup brown sugar
¼ cup rice vinegar
1 cup of honey
2 tbsp cornstarch
1 tsp canola oil
1 ½ tsp minced ginger
3 cloves garlic, finely minced
pinch of red pepper flakes, optional
For the Garnish:
sliced green onions
orange slices
Let's make it:
Pour 1 to 2 inches of canola oil in a small deep fryer or heavy bottomed pot and heat to 375 degrees F or until golden brown.
In a large bowl combine the sesame oil, egg, 3 tbsp soy sauce and ⅓ cup cornstarch until a thin batter forms. Toss in the chicken pieces and let sit for a few minutes while the oil heats up. Fry the chicken in batches and drain on a paper towel lined plate. Meanwhile, prepare the sauce.
For the Sauce:
Combine the orange zest, orange juice, 2 tbsp soy sauce, 3 tbsp water, ⅓ cup brown sugar, ¼  cup rice vinegar, ⅓ cup chicken broth, coriander, cumin, honey, and 2 tbsp cornstarch in a bowl and set aside.
Once chicken is finished cooking, heat 1 tsp canola oil in a skillet over medium high heat. Toss in the ginger, garlic and red pepper flakes (if using) and stir until fragrant, about 30 seconds. Pour in the sauce and cook over medium heat until thickened, stirring occasionally.
Once thickened (about 3 to 4 minutes) add chicken and stir to coat with sauce. Garnish with sliced green onions and orange slices and serve over hot steamed rice if desired. Enjoy!
Week's recipe:
1 tbsp Sesame Oil    
1 tbsp Canola Oil
2 lbs chicken breast cubed
1 tsp ground ginger
1 tbsp minced ginger
½  tsp garlic powder
2 cloves minced garlic
¼ tsp black pepper (I used 4 turns on the pepper mill)
⅓ cup soy sauce
⅓ cup Bourbon (or whatever brown whiskey you have sitting around. Dark rum would probably work too). If you don't keep alcohol in your house you can substitute apple juice or cranberry juice. If you use juice, use a little less brown sugar. It really is delicious with just apple juice and no Bourbon.
½ cup water
1 tbsp rice vinegar (white wine vinegar or plain white vinegar would do if you don't have rice vinegar)
¼ cup brown sugar
1 tbsp cornstarch dissolved in 3 tbsp cold water
Sesame seeds for garnish
Green onions for garnish 
Cut the chicken breast into 1 inch pieces
In a small bowl combine the ginger powder, pepper, soy sauce, whisky or apple juice, water, garlic powder, vinegar and brown sugar. Set aside.
In a large saute pan or skillet heat the oil on medium high heat.
Add the chicken and cook until the juices have cooked off and the chicken starts to brown, about 8-10 minutes. Stir the chicken every 1-2 minutes so it doesn't burn and browns evenly. Add garlic and ginger and saute for 1-2 minutes. (Add in more oil if needed). Add the bourbon mixture and stir well. Allow the liquid to come to a boil and then turn the heat down to medium. Simmer uncovered for about 15 minutes. Add in the cornstarch liquid and stir briskly. The sauce will thicken quickly.
Serve over rice.
Garnish with sesame seeds and green onions

Chicken & Waffles



The recipe for the week is Waffles. I love to make my own waffles with a variety of ingredients. Waffles are good anytime of the day but to help distinguish between a breakfast meal and a anytime of the day meal add what you like. Let's get started. Here is what you need:
1 cup yellow cornmeal
1 cup all purpose flour
2 tsp double acting baking powder
½ tsp baking soda

¼ to ½ tsp salt
1 tsp raw honey
2 cups buttermilk (shake it well)
2 eggs
1/2 cup maple syrup
4 tbsp butter melted
1 cup Shredded cheddar cheese (any kind)
1 tbsp minced chives
In large bowl, whisk all your dry ingredients first to make sure they are fully blended, now add your buttermilk, then your eggs, followed by honey, maple syrup and melted butter (let your butter cool a bit before adding). Use whisk to make sure fully blended. Now fold in some shredded cheese (any kind you like, I tend to use the Triple Cheddar from Food Lion because I get 3 different types of Cheddar and chives. If you are not partial to chives, leave out.
To make the waffles, preheat the waffle iron. Lightly coat with vegetable spray if necessary. Pour batter into a measuring cup to help control the pouring. Pour batter in the center of the waffle iron. Try not to overpour. Close the lid and bake until browned and crisp, about 5-8 minutes. Place waffles on a baking sheet and keep warm in the oven while you continue cooking the rest of the batter.
You can also fold in some deli ham or turkey. To make Gluten Free replace the flour with some gluten free flour or almond flour same for cornmeal or you can replace the cornmeal altogether by adding an additional cup of your gluten free flour. You can also replace the buttermilk with Plain Greek Yogurt. Follow us on Facebook or Instagram for new Weekly Recipes.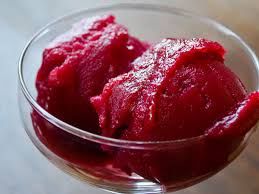 Wine infused Sorbet 
We are making Strawberry Sorbet infused with White Zinfandel and Mango Sorbet infused with Pinot Grigio. What is a Sorbet? A sorbet is a dessert containing frozen fruit or fruit juice or flavored water and sugar. Here is how we make my version: Try it, you will fall in love with the taste.
Strawberry Sorbet
1 bag frozen Strawberries
10 fresh Strawberries
1 cup Sugar
2 tbsp Honey
2 tbsp Lemon Juice
2 cups of your favorite White or Pink Wine
Place all ingredients except fresh strawberries into a food processor or blender. Blend for about 1-2 minutes depending on how large the frozen strawberries are. Once done taste. Pour into a freezer safe container. Cut fresh strawberries into small bite size pieces. Fold into your mixture. Freeze for about 4 hours and serve. For best results freeze overnight.
For the Mango substitute frozen strawberries with frozen mango chunks. Fresh strawberries for 1 fresh mango and use Pinot Grigio instead of White Zinfandel.
Note: For kid friendly sorbet, Substitute 1½ cups of water instead wine! To have more of a creamy consistency substitute ½ cup of water for almond milk. Enjoy!