Wedding Bouquet Roses-Silk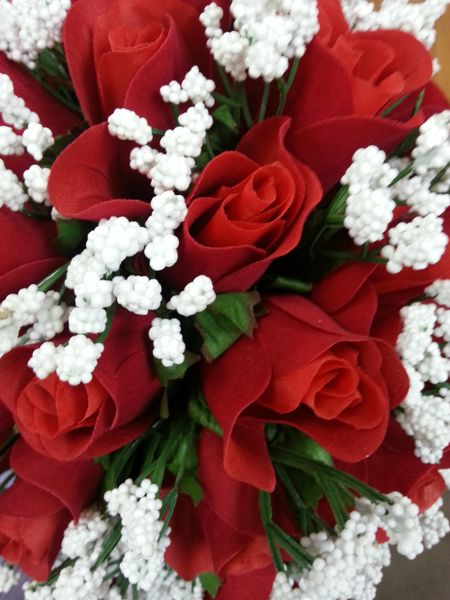 This Rose Bouquet is made of 28 silk roses with greenery. This classic bouquet is bound together at the stem with your choice of satin color ribbon accent with a bow. Select your choice of colored roses to coordinate with any theme. Can include a Crystal Bouquet Holder for $10 more. The Bouquet has only 28 silk roses, greenery and baby's breath. We can also custom make your bouquet. Please include a email address or phone number to receive the proof of colors prior to completion. Will not make until all colors and styles of floral are approved by you.
If you need a ThrowToss Away Bouquet. A Throw/Toss away bouquet is half the size or the original bouquet order. It is used when you toss the bouquet at the reception, if you do not want to toss your original bouquet. The handle is wrapped with the same ribbon color but will not include the crystal acrylic handle to prevent injury.
Send email to dylansuniquegifts@gmail.com with your request and a picture of what you would like. Prices vary depending of the type of stem. Many colors go season to season which could adjust pricing.
There are no RETURNS or EXCHANGES on Custom made goods.